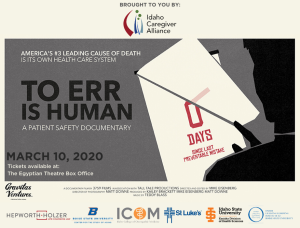 The Idaho Caregiver Alliance, in partnership with the Center for the Study of Aging, invites you to join us for a premiere showing of To Err Is Human in Boise. The event aligns with Patient Safety Awareness Week and will include a reception, presentation of To Err is Human, and a panel discussion with health care leaders and the filmmakers. Event proceeds will go to the Idaho Caregiver Alliance to expand respite support and programs.
Medical mistakes lead to as many as 440,000 preventable deaths every year, making it the #3 leading cause of death in the United States. To Err Is Human is an in-depth documentary about this silent epidemic and those working behind the scenes to create a new age of patient safety. The film, directed by the son of late patient safety pioneer, Dr. John M. Eisenberg, includes interviews with leaders in healthcare, footage of real-world efforts leading to safer care, and one family's compelling journey from tragedy to triumph to provide a unique look at our health care system's ongoing fight against preventable harm.  
To learn more and buy tickets click on the following link, To Err is Human in Boise.