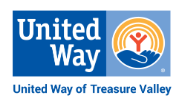 The United Way of Treasure Valley, in partnership of Saint Alphonsus, needs your assistance. If you live in Ada, Canyon, Elmore, Gem, Owyhee, Malheur, Payette, or Washington County please take a moment to fill out this community assessment survey. 
The informaiton from this survey will provide a high-level overview of community needs and helps community stakeholders gain an understanding of which solutions may work best in the Treasure Valley.
To access this survey in English, Spanish, Kiswahili, and or Soomaali click here, 2020 Community Assessment Survey and select your prefered language. To access this survey in Arabic click on the following link 2020 Community Assessment Survey Arabic.